Running for Dana-Farber 2017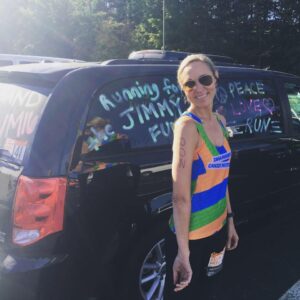 I am once again running Reebok's Ragnar Reach the Beach in support of the Jimmy Fund to benefit Dana-Farber Cancer Institute. This is my seventh year running!
This year has been particularly horrific for cancer. Over the winter, I lost another beloved uncle, my Uncle Johnny, to cancer, meaning my Dad lost his second brother. This past spring, Don, the president of the small company for which I work and a true mentor and friend to me, passed away from pancreatic cancer. Also in spring, my dear friend's sweet toddler grandson Jack was diagnosed with leukemia, and Jeff's Uncle Buddy was diagnosed with brain cancer. They are both fighting hard! I will be running with all of them in my heart as well as my beloved Uncle Dickie who we lost five years ago and my Papa who passed from cancer when I was just five years old. In addition, I will be running for the countless friends and family who have fought and beat cancer and they will be my hope. Each year, we find more treatments and we get closer to a cure. I promise that I will not stop doing my small part to kick cancer's sorry ass until this hateful, indiscriminate disease has been wiped from the face of the Earth.
Please donate at http://www.rundanafarber.org/2017/heidiwhite
Any amount is appreciated. Let's all do our part to eradicate cancer!
—
Since its founding in 1947, Dana-Farber Cancer Institute has been committed to providing adults and children with cancer the best treatment available today while developing tomorrow's cures through cutting-edge research.
Thank you for your support!